Sacred:Adrenaline
Jump to navigation
Jump to search
The Dark Elf concentrates in order to increase his defense values for a while by releasing this powerful hormone throughout his body.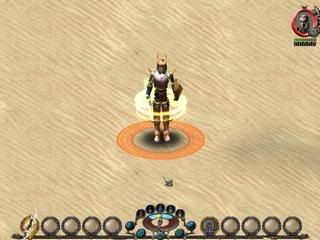 Stats and Formulae
The regeneration formula can be found at Regeneration Formulae.
Duration = 30 + (Rune Level - 1)
Defense bonus = 50% + 20%*(Rune Level - 1)
Physical regeneration bonus = 25% + 5%*(Rune Level - 1)
Usage Strategies
Cast it before going in a battle, it will raise the defense of your Dark Elf.
Pros and Cons
Pros
Very long duration. Will top out at maximum level from runes read and, with equipped items used to raise this Combat Art, will go well over the four minute mark.
The Defense (+20% per Rune Level) and Physical regeneration (+5% per Rune Level) bonuses increase linearly.
Cons
The highest regeneration level time (12) from the traps.