Sacred 2:Through the Wall
Jump to navigation
Jump to search
Quest Objective: Get to the Human lands beyond the Great Wall
Quest Difficulty: n/a
Quest Giver: Liosilath
Location(s): Thylysium
Prerequisite Quest: Levied Tax (This is the second storyline quest, in the first chapter of the Light Storyline Campaign)
Next Quest: Beyond the Wall
Reward: n/a
Quick Walkthrough
Talk to Liosilath in the Thylysium Academy
Go to the Great wall, and contact a person named 'contact' (appropriate name though :) )
Go through the secret passage below the Great Wall, and get to the Human lands.
Go to the Gambling Den, an tavern just north of Griffinborough.
Talk to the tavern keeper, and the Gambling Den
Detailed Walkthrough
OK, so you are still running the main quest. Good to see, chances are you'll actually finish it :)
So, remember where we ended up at the first part? Right, in the Thylysium Academy. You'll notice that when you completed the Levied Tax quest, Liosilath still had the (?!) marks above his head. By talking to him again, you start this quest, the second part in the first chapter of the storyline.
Liosilath will grant you a little more insight in his current operations to battle evil, and tells you of the wars in the orcish lands, and of a party of elves sent to invastigate... But they never returned. He wants you to head to the orcish lands, and find the elf delegates, and discover what they found out. But before you get to where you need to be, you better travel to the Great Wall, the borderline between elven and human lands. Remember to pick up the Waypoint and Resurection monolith on your way there, as indicated on this map, along with a travelling path.
When you get to the waypoint, follow the yellow path to get to your 'contact'. Talk to him, and then follow the blue line to get to the secret passage entrance (it's a cave, so dismount and prepare your flash-sticks and bug repellant)
The cave itself is too large to put on your minimap, but honestly ... If you take a wrong turn in this cave, the game might be too difficult for you. The simple reason being it's one long path. There are no turns, no lefts or rights ... Just straight ahead. Hard to miss right ?
After a while you'll see the end of the tunnel, and it's one of those few moments where you can actually run to the light, and come out on the good end of the story. You'll be in human lands, and meet a new series of opponents. Follow this path to get to the 'Gambling Den' inn, like your 'contact' told you. Make sure you pick up the Griffinborough Waypoint and monolith your way over there.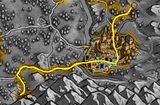 If you do it right, the gambling Den should appear as a single house on the side of the road. Inside you find the 'tavern keeper', right behind his tavern, where a genius like yourself might expect him to be. When you talk to him he will tell you that the elven party hired a guide by the name of Jaftar.
After this conversation you succesfully completed the first chapter of the 'Light Storyline Campaign'. You'll again notice that the tavern keeper still has the (?!) marks above his head. By talking to him again you start the second chapter of the storyline
Logbook Entry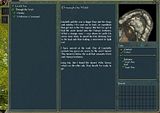 Notes
Make sure you pick up the waypoint (WP) and monolith in both Dragonmaw pass and Griffinborough, as indicated in the small maps.
It's possible that after leaving this cave your mount or unique mount will no longer come when you summon him. The best thing to do is walk to the waypoint in Griffinborough, and quickly leave the game, and enter it again. This will fix the problem, and you can teleport right back to the WP where you left the game